From the bottom to the top, this is a hub of design and innovation at UC San Diego. Where would you like to go?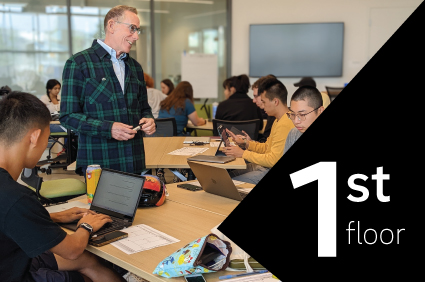 The Basement
Located on the first floor, The Basement is the student-focused incubation space, where students can participate in startup incubators, design and innovation programs, leadership opportunities, and entrepreneurial workshops. 
Makerspace
The Makerspace is an open-access, community-focused prototyping lab for everyone at UC San Diego, regardless of department or experience level. This 10,000-square-foot facility contains over a million dollars of tools and equipment and exists to empower students to design, build, and tinker whether it's research, artwork, personal projects to entrepreneurship.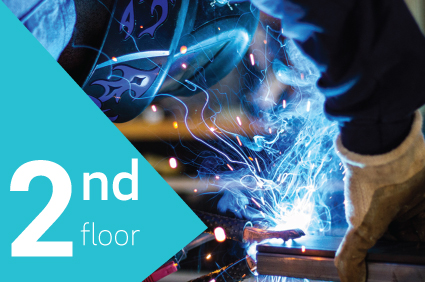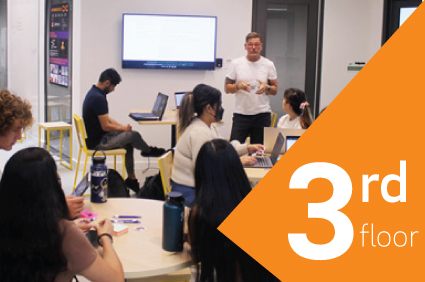 The Design Lab
The Design Lab works on major societal issues, such as large-scale education, automation, healthcare, visualization of complex phenomena and data, social interactions, citizen science, and the ethical issues that are of ever-increasing importance. For the Design Lab, design is a way of thinking, addressing the core issues, always taking a systems point of view, emphasizing the role of people in the complex systems of the modern world.
Entrepreneurship Center
On the top floor, you will find the Entrepreneurship Center. This incredible space is dedicated to bringing our regional innovation community together, like never before, to create a dynamic and diverse environment that accelerates the development of entrepreneurial talent and impact-driven companies.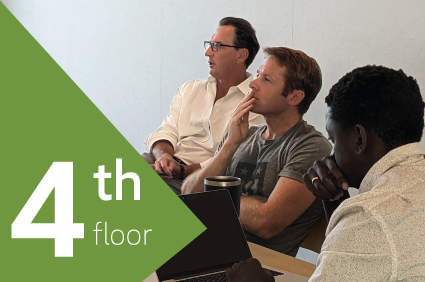 Need Space for an Event?
The DIB is an incredible venue to host events on campus in select spaces within this state-of-the-art building. Talk to us about your next event.
Visit the DIB!
With many ways to get here, isn't it time you come to campus to see the DIB for yourself?